I immediately circled my calendar the moment I found out about the Gilmore Girls reunion. But to be honest, I didn't grow up watching Gilmore Girls. I never really watched the show until this year. I was in a bit of a slump and needed something to help me get through some hard times as a distraction. Finally, I landed on Gilmore Girls because I had heard so much about the show.
Gilmore Girls was the definition of Netflix binge watching for me. And honestly, I don't regret one second of it! I fell in love with the characters, the town of Stars Hollow and the trials and tribulations threaded in the plot. Loreali and Rory quickly became as familiar as family.
If you are looking to start a new series and have never watched the Gilmore Girls in action. I highly suggest you give them a try! And if you aren't already convinced or have been a big fan for a long time, here are some reasons I fell in love with this show.
TOP 20 THINGS WE'VE LEARNED FROM GILMORE GIRLS
1. There is never a good time to sit by the phone and wait for a boy to call.
I vividly remember Rory sitting by the phone for Dean to call and finally she decided enough was enough! She needed to start living her life not waiting for a boy to call her! Some serious girl empowerment in this episode.
2. You can never drink too much coffee. 
#Truth. You can't be a Gilmore Girl fan without a cup of Joe.
3. When you throw a movie night there is nothing wrong with a throwback film and a table full of takeout.
Can't make a choice on what to order in? Screw it! Order all of it!
4. Even if you are in University you may still need your mom. And this is okay. Needing an adult as an adult is 100% okay. 
In the early seasons Rory was depicted as the perfect student and daughter. However, even with her smarts and her looks she still needed Lorelai to stay with her, her first week at Yale. No matter your inner strength sometimes you just need a support system and that's okay!
You are allowed to feel this way at any time in your life. Don't discount the end of the series when Rory finally spreads her wings to become a true reporter!
5. It is a good thing to embrace difference – Stars Hollow was a mixed bag of people and personalities and that is why it was so great! 
It is hard not to fall in love with Lorelai and Rory Gilmore as soon as you are introduced. But, when you think of it, it is also hard not to fall in love with their town Stars Hollow. Rory and Lorelai always embrace the interesting characters in their town because it simply wouldn't be the same without them! Weird makes life interesting.
6.  Nobody is perfect and it is okay to derail. 
As I mentioned before, Rory is painted with a beautiful brush for the first few seasons. However, we see her derail in later seasons as she takes a break from school and loses contact with her mother. Life has a funny way of teaching us lessons even if things are going smoothly. There is no denying these lessons help our souls to grow!
7. Hard work will pay off. 
Trust me. It will. Keep pushing for your dreams. You've got this!
8. Family, no matter how crazy, is worth working for.
There is no doubt an consistent theme throughout Gilmore Girls is the struggle to relate with family. However, as we journey through the seasons we find that even the biggest differences can have resolve when both parties try to meet half way. And ultimately, the struggle is worth it. Well, unless they are really off their rocker!
9. Dating is hard. But when you find the right person it will work out.
Love interests change throughout your life. But no matter what, you will learn from each one until you find the right person.
10. No matter how old you are, sometimes you just need to cry in bed. 
11. Friends who are crazy, but challenge you to be better are worth keeping around. 
Okay, so Paris was a little rough around the edges sometimes. But, she really did have her heart in the right place.
12. Life is full of drama and it will come in and out of your life no matter how much you avoid it. Just accept it and learn how to learn from it and move on. 
13. Boy's aren't as important as pursuing your own goals. 
When going through your early stages of dating, it can seem the end of the world when a love interest comes into play. However, keep grinding it out for your own dreams no matter what!
14. You should pursue your passions not matter what anybody thinks. 
Sure it may have seemed a bit crazy at the time. But when Lorelai finally decided to open her own Inn her dreams were set in motion!
15. Embracing the little things in life will slow down time. 
I always loved the episodes with the first snow fall. Throughout the seasons Lorelai was constantly reminding the audience to embrace the simple things in life.
16. Learning self-love is very important. Along the way surround yourself with a positive support system! 
17. BE unapologetically yourself! 
And in true Gilmore Girl fashion, never underestimate the power of rambling and talking fast. It can get you out of a sticky situation.
18. Embrace the people in your life that make you happy. Even if it is scary. 
Yes I said it. Even if it's scary!
19. Say what you mean. 
Just say it! Some of the best advice I have ever been given is, "speak your mind, even if your voice shakes".
Like here…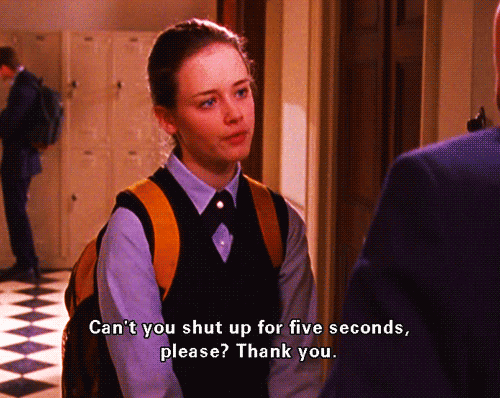 or here!
20. If you have the choice between being respected and liked. Always choose respected. 
I will never forget the scene Rory had to tell Jess it was over. She still cared for him so much but at the end of the day she cared about herself more. This moment made the audience realize the strength of Rory Gilmore.
BONUS – If you are going through a rough time. Get some pop-tarts, order takeout, throw on Gilmore Girls and try again tomorrow.
There is so much more you can take from this awesome show. Just sit back, relax and enjoy the ride.
Love you all – hope this one finds you well!
A
SaveSave
SaveSave
SaveSave
SaveSave